The Plain Wrapper Press Redux Team
Book collectors worldwide acknowledge GABRIEL RUMMONDS as one of the world's pre-eminent handpress printers of the late Twentieth Century. For almost 25 years, using the imprints of Plain Wrapper Press and Ex Ophidia, he printed and published illustrated limited editions of contemporary literature on iron handpresses, primarily in Verona, Italy, and Cottondale, Alabama. Rummonds has had several exhibitions of his work in Rome, New York, San Francisco, and Verona, culminating with a major retrospective exhibition held at the Biblioteca di Via Senato in Milan, Italy, in 1999. Many of the world's most famous museums (including The Museum of Modern Art and The Whitney Museum of American Art) and libraries (including the rare-book libraries of Harvard University, Princeton University, Stanford University, The University of Georgia, The University of Oregon, and The University of Texas), as well as numerous private collections of fine printing, house his books.
The University of Alabama appointed Rummonds the founding director of its MFA in the Book Arts Program in 1984. Several of his students have become prominent fine-press printers. He has also given workshops on Problem-Solving on the Cast-Iron Handpress at Rochester Institute of Technology in Rochester, NY, and at Victoria University of Wellington in New Zealand.
Rummonds has authored four trade books on printing: Problem Solving and Printing on the Cast-Iron Handpress (Rochester Institute of Technology, 1991), Printing on the Iron Handpress (Oak Knoll Press & The British Library, 1998), Nineteenth-Century Printing Practices and the Iron Handpress (Oak Knoll Press & The British Library, 2004), and Fantasies & Hard Knocks: My Life as a Printer (Ex Ophidia Press, 2015). He has won a prestigious "Fifty Books of the Year" award for excellence in book design from the American Institute of Graphic Arts.
Photo courtesy of Weldon DeBusk
MARK E. FISCHER founded the Stamperia Ponte Pietra in Verona, Italy, in 1976 at age 14. He had started learning the art of handprinting and fine-press publishing from Gabriel Rummonds as soon as his family had moved to Verona in 1973. By the time he matriculated at Harvard College in 1980, his press had published four editions, which had already been collected by Harvard's rare-book Houghton Library (as well as by several other rare-book collections in the US). These were Marsh Marigolds (in English), L'Indovinello Veronese (in Italian), Blue (in English and French), and Est Modus in Rebus (in Latin, Ancient Greek, English and Italian). Fischer had studied these languages while attending the Liceo Classico Maffei in Verona. At Harvard, Fischer studied descriptive bibliography, Latin, Ancient Greek, and French, and he graduated with a Bachelor of Arts in Philosophy.
While Fischer continues to pursue his other great professional passion—corporate finance—he has now also teamed up with his original printing and publishing mentor Rummonds to re-launch the venerable Plain Wrapper Press as Plain Wrapper Press Redux. The mission remains to print and publish among the most beautiful books in the world, rich in high-quality text and artwork, and designed, printed, and bound by hand with exacting craftmanship and the finest materials.
In addition to being the publisher of Plain Wrapper Press Redux, Fischer performs financial analysis for a US financial-services company.
JOHN D. WAGNER is the author of more than 20 books, and he has also written more than 2,500 periodical articles, ranging from literary papers published in academic journals, to travel pieces published in The Wall Street Journal and The Asian Wall Street Journal, to works of memoir published in The New York Times. He has also published articles in publications such as Popular Science, The Chicago Tribune, The Los Angeles Times, and many other magazines and newspapers. His spoken memoir has been heard on National Public Radio's All Things Considered.
Wagner's poetry book Fake Cities was published by Ex Ophidia Press. The Kallima Butterfly is his second poetry book. Forthcoming in 2022 will be a book of Asian proverbs edited by Wagner, Kick the World/Break Your Foot. In addition to having published poetry in journals such as The Onion River Review, Quarterly West, Jabberwock Review, The Independent, and The Columbia Review, Wagner is also the author of a novel for nine- to 12-year-olds, The Crash Crystal. Wagner has a Bachelor of Arts in Medieval Philosophy from St. Michael's College in Vermont, and a Master of Fine Arts from the University of Alabama, where he attended on a Dean's Scholarship and was awarded the prestigious Teaching Writer Fellowship.
Wagner has taught at several universities, including Norwich University, Suan Sunandha Rajabhat College in Bangkok, Mississippi State University, St. Michael's College, Vermont Community College, Burlington College, and the University of Alabama at Tuscaloosa. He has been a guest lecturer at Kenan Flagler Business School, The University of North Carolina, The Fuqua School of Business at Duke University, and in the MBA program at North Carolina State University. Today, Wagner works as a managing director of a private investment bank.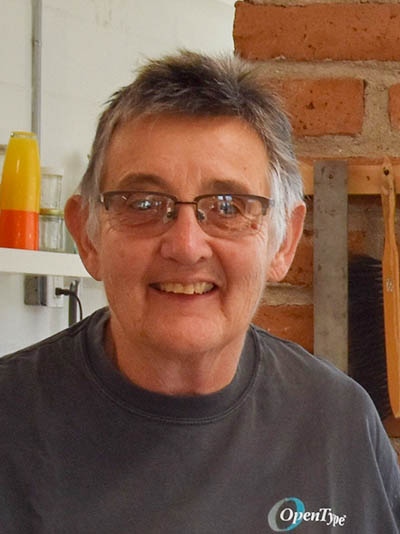 SANDY TILCOCK of lone goose press has been involved with traditional book arts for over 30 years. In 1987 she completed an MFA in Book Arts at the University of Alabama, where she had the privilege of studying letterpress printing with the Institute's director, Gabriel Rummonds. In 1989 Tilcock founded lone goose press, located in Eugene, Oregon. In 2018 lone goose press relocated to Bisbee, Arizona. From the start, the press has promoted book arts and focused on works fostering conversation about community, social justice and environmental ethics. In 1999 Tilcock established Knight Library Press at the University of Oregon and served as its Director until its closure in 2006. Tilcock has had the privilege of working with noted authors including Wendell Berry, Barry Lopez, W. S. Merwin, Naomi Shihab Nye, Pattiann Rogers, Gary Snyder, Kim Stafford, William Stafford, and Terry Tempest Williams. Private collectors and more than 70 institutions have lone goose press publications among their holdings, including The British Library, The Brooklyn Museum, Brown University, Stanford University, Texas Tech, The University of California-Berkeley, The Whitney Museum of American Art, and Yale University. In 2014 The Art of Being Unseen was released. This catalog chronicles Tilcock's letterpress work from 1986 to 2013.
JERRY KELLY is a book designer, calligrapher, type designer, and typographer. Since the late 1970s he has designed hundreds of books for numerous clients, including the Metropolitan Museum of Art, The Pierpont Morgan Library, The American Federation of the Arts, The American Academy of Arts and Letters, The Grolier Club, and others too numerous to mention.
His work has received numerous awards, including more than thirty selections in the prestigious "Fifty Books of the Year" awards for excellence in book design of the American Institute of Graphic Arts. In 2015 he was presented with the prestigious Goudy Award from Rochester Institute of Technology.
Following a few years working in lettering and calligraphy, he left employment in those fields to pursue a career in book design, first with the Press of A. Colish (1981–1991), and then with The Stinehour Press. After The Stinehour Press was sold, he went out on his own, designing and producing books as proprietor of Jerry Kelly LLC.
He has written many articles and several books on the subjects of calligraphy and printing, including Artist and Alphabet (The American Institute of Graphic Arts, 2000), The Fine Art of Letters: The Work of Hermann Zapf (The Grolier Club, 2000), A Century for the Century (The Grolier Club, 2000), Spend Your Alphabets Lavishly (Rochester Institute of Technology, 2007), and The First Flowering: The Work of Bruce Rogers at The Riverside Press (Club of Odd Volumes, 2008), among others. He has also taught and lectured widely, including at Pratt Institute, Cooper Union, and the Parsons School of Design.
Kelly is an active member of the American Printing History Association (where he served as Chairman of the Board and Vice President), The Grolier Club (where he has served on several committees including Modern Fine Printing), and The Typophiles (where he served as President, 2014–2015).
JACE GRAF founded Cloverleaf Studio in 1997, and over the past 25 years, Cloverleaf has specialized in design, edition binding, slipcases, boxes, and most any other kind of book- or print-related enclosure. Clients include museums (such as MoMA, The Museum of Fine Arts-Houston, and the National Gallery of Art), academic special collections (such as Princeton University, Southern Methodist University, and Vanderbilt University), small publishers, booksellers, and private collectors. Cloverleaf Studio's work is found in major museums, university archives and private collections across the United States.
Graf was trained as a bookbinder at BookLab in Austin, Texas, where he worked for five years. At the time, BookLab, the brainchild of Craig Jensen, was the premier fine press hand bindery in the country. Because it was an edition shop, Graf got lots of reps on all kinds of bindings and boxes, and was fortunate to be mentored by Craig, Gary Frost and Priscilla Spitler.
Graf has a Master of Arts in Book Arts from Mills College in Oakland, California, where he studied calligraphy, letterpress printing, hand binding and book history. As part of his degree plan, Graf also had private classes with the renown calligraphic artist Thomas Ingmire. Graf also has a Bachelor of Business Administration and a Bachelor of Arts in Government from the University of Texas at Austin.
Photo courtesy of Kenny Braun